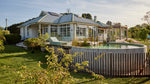 Located in the Southern Highlands in regional NSW (1.5 hours from Sydney Airport), Seymour House offers luxury accommodation, a country living experience, and a place for bespoke events. Built in the early 1900's, the former residence of the old dairy farm, this 3,500sqm property is surrounded on 2 sides by the beautiful Seymour Park (off leash dog) with private access to the park and overlooking Moss Vale Golf Club. So much more than a venue, over the years, Seymour House has developed into a space for sharing beautiful experiences.
Chelsea Gardens is the production arm of Seymour House. It is the creation of stylist, Georgia Ashdown, and chef, Alexander Watts. Chelsea Gardens offers bespoke events and dining experiences.
We offer the following

01 – Luxury Accommodation
Experience the best the Southern Highlands has to offer – Seymour House. Picturesque boutique accommodation in a serene rural setting. Accommodation options include; the main house, the front of house, and our cabin, or the entire estate. Multiple bedding arrangements can be made upon booking.

Find out more

02 – Dining Experiences
Whether it's to cater for a special day, feed your team, or prepare a seasonal 3-course meal to be enjoyed while you stay, Chef Alexander Watts will prepare menus for all events and occasions.

Find out more

03 – Bespoke events
From weddings to corporate retreats, Chelsea Gardens can accommodate and arrange it all. Any or every element of your event brought to life through venue hire, production, dining, styling, dining, photography, and more.

Find out more

Seymour House pays respect to and acknowledges the Gundungurra people, the Traditional Custodians of this land. We recognise the continuous and deep connection to their Ngurra (Country) and that this is of great cultural significance to Aboriginal people, both locally and in the region.
Georgia Ashdown
Georgia Ashdown founded Chelsea Gardens in 2019. Georgia uses her categorical understanding of style and emerging trends to steer the creative direction of each element of Chelsea Gardens.

Having worked with numerous organisations over a successful 20-year career (including; British Vogue, ELLE, ELLE girl, Sunday Magazine, MTV Australia, Delicious) in relation to both the planning and styling of fashion shoots and events,
Georgia set up Chelsea Gardens to do things differently – to provide a creative unique, exciting and personal service for clients.
Alexander Watts
After starting his career as a chef in the Southern Highlands in the 90's Australia moved to work at the Four in Hand Paddington. After forging a love and training in French Bistro, modern Australian and European Alex has gone on to work in and lead many establishments both in Australia and abroad, most notably the Princess of Shoreditch, Bistrotheque London and The Welcome Hotel Rozelle.

Alex is the former owner of Runcible Spoon cafe Camperdown and The Old Growler Bar and Pantry.

Alex is an experienced chef and culinary educator available for cooking classes and workshops.
To discuss potential future events, please contact us.